If you don't partner with the right influencers, the campaign is doomed to fail from the start.
61% of marketers agree it's challenging to find the best influencers for a campaign, suggesting this problem is far from solved.
What are the most important criteria to look out for?
Here are the top 5 things marketers look for when deciding the best influencers to work with:
1. Quality of content.
Before working with an influencer, review their content and compare it to others in their industry. According to Ryan Robinson's recent blogging statistics, 65% of content marketers say they have a documented content marketing strategy in place, meaning 35% have room to improve.
Is their sponsored content thoughtful and creative, or is it comprised of quick shout outs or product placements thrown in without much thought?
2. Target audience.
Even if an influencer has great content, it's crucial to confirm that the influencer's audience profile aligns with the demographics you're targeting for your campaign.
3. Engagement rate.
Engagement is by far the most common metric used for measuring influencer marketing success, measured by 75% of marketers for influencer marketing.
The engagement rate of a post is calculated by adding up engagement (likes, comments, etc.) and dividing it by the influencer's total number of followers.
Note that engagement rates for sponsored content will almost always be lower than on organic posts.
4. On-brand messaging.
Evaluate whether the influencer's voice and aesthetic line up with your brand's style.
It's also important to research any past controversies and keep an eye on their language to identify whether anything throws up red flags regarding brand safety.
5. Budget.
Clearly, an influencer needs to be within your price range.
Remember to consider influencer fees, production costs, product costs (if you plan to ship them a sample), and any platform or influencer agency fees when calculating your overall budget.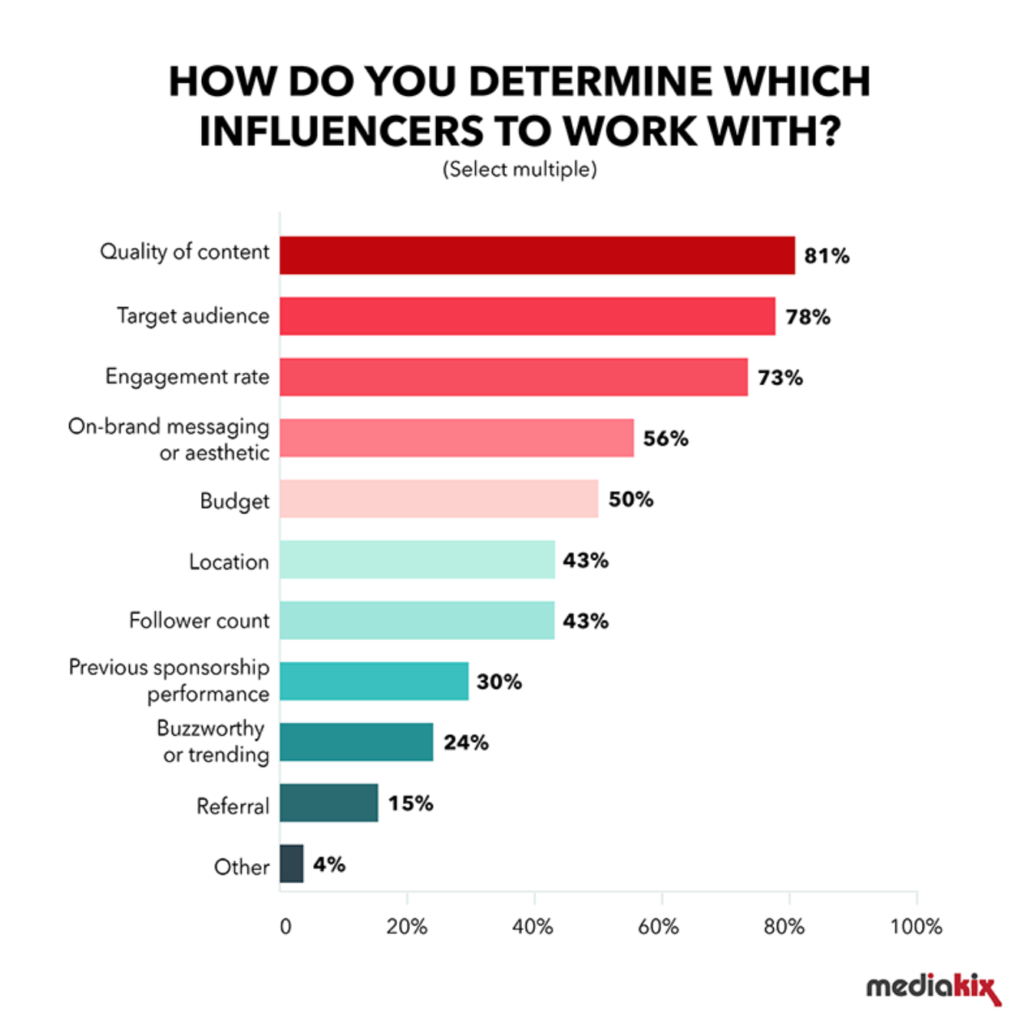 Source: https://www.bigcommerce.com/blog/influencer-marketing-statistics/#what-makes-a-quality-influencer