Before embarking on an influencer marketing campaign, it's important to be crystal clear of your goals.
Generally, target key performance indicators (KPIs) for brands fall into two camps:
Brand awareness: metrics tied to increased audience awareness of your product or service, such as content impressions, likes, comments, mentions, reach and traffic.
Direct response: metrics tied to specific actions, such as clicks, sales, conversions, leads, downloads and subscribers.
Some influencer marketing campaigns fall into both camps, driving engagement as well as some form of conversion.
Here are the top five influencer marketing goals cited by marketers:
1. Increase brand awareness.
The most popular goal for influencer marketing campaigns is building awareness around a brand, product or service.
Brand awareness is generally measured through impressions, reach and engagement metrics.
2. Reach new audiences.
Influencers should be able to share their audience data (age, gender, location, interests, etc.) to help ensure alignment with your target audience.
3. Generate sales.
More influencer campaigns today are aimed at driving tangible sales, which can be clearly tracked using custom links, landing pages and redemption codes.
Remember to have all these elements in place before launching your campaign to ensure accurate measurement.
4. Improve brand advocacy.
Influencers can provide strong validation and spark word-of-mouth conversations about your product or brand amongst their fans.
5. Drive lead generation.
Aside from sales, new leads are another popular direct response metric for influencer marketing campaigns. Names and emails can be collected through newsletter subscriptions, account setups, or giveaway entries.
PROFESSIONAL TIP:

Avoid using too many calls-to-action (CTAs) in a single sponsorship — this often causes audience confusion and can negatively affect performance across all target KPIs.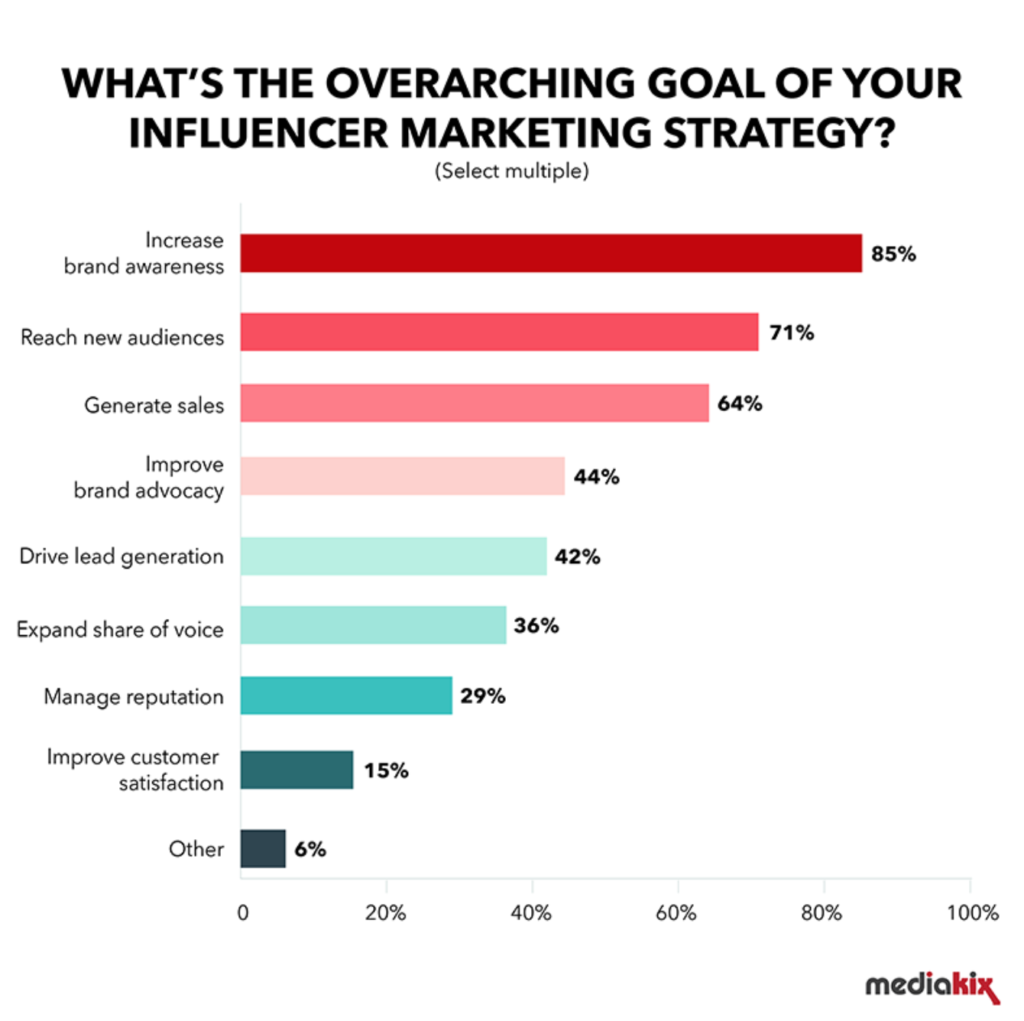 Source: https://www.bigcommerce.com/blog/influencer-marketing-statistics/#top-5-goals-of-influencer-marketing